Welcome to euIRC!
Whether you already know euIRC or if you like to get to know it - we hope you can find what you are searching for on our website and would like to wish you a lot of fun with chatting on euIRC!

The euIRC Team
Latest news
As most of you already noticed, yesterdays news was an april fools prank. OPERME was a prank-command that added the line "$me has been fooled" to the ...

Read news ...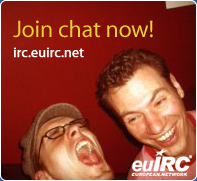 Here you can find some selected channels on euIRC.
The official euIRC webradio. Chatting, good music and much more!

german 24/7 internetradiostation for EBM, Industrial, Electronic strange music for strange people
Official channel of the well-known online browser game KartellWar

Channel of the www.revorix.de game

Fantasybrowsergame www.World-of-Dungeons.de
#EAF Channel of the Anime/Fansub Community from www.emania.de

Having a chat about anime/manga if you feel like =)

Channel of AnimePath (www.animepath.de)